What was once a day of hush-hush widespread consumption, has now evolved into a very major and very public holiday that reaches every region and country on every continent. The warm April days leading up to 4/20 have become a shopping frenzy for cannabis enthusiasts worldwide while the magical day of 4/20 itself is the absolute Black Friday for the cannabis industry. Such a monumental event takes lots of preparation, and those who are prepared see major month to month sales spikes, in some cases over 100%. We know many of you are not fans of planning this far out – but here we are afraid there's no room for being reactive – it's time to think strategically!
Are you ready for 4/20?
We are in the very beginning of February and it seems like there's plenty of runway to get ready for April and reap the business benefits of the 4/20 frenzy. Yet for some reason, if you ask any supplier, March-Madness is very painfully real. This is the crazy time of the year when everyone in the industry "wakes up" to a reality of supply chain timelines, challenges, delays, etc. and the realization that you have missed the boat settles in. At that point you do what you can with what you have, sucks doesn't it?
Speaking from years of experience in the vaping industry, we have been a witness to this panic each and every year. No matter how much we try to inform and guide the industry, there are always those who think they got it covered, and that magic is possible. Perhaps they still believe in Santa… Let's take a closer look at the key factors and the reality of cannabis vaping supply chain really works during this time.
The Chinese New Year Impact on Supply Chain
Every year, just like the western New Year – the Chinese New Year is the festival that celebrates the beginning of a new year on the traditional Chinese calendar. A festival of lights and new beginnings, a very big family holiday – this event usually falls in February according to the wester calendar. In the days leading up to Chinese New Year the thousands of workers who assemble your cannabis vape hardware, begin to make their way back to their families for the holidays. With that production capacity is being depleted, while factories are rushing to get orders out before holiday closures.
While this is not the best time to be producing your hardware, this does happen to be the absolutely optimal time to secure your place in-line after factories reopen and ensure that you have plenty of lead time to get your inventory orders in time for 4/20.
The reason you need to have some lead time is simple: while the official holiday lasts roughly 8 days, the reality is that workers start trickling back in a couple of weeks and factories get back up to speed no earlier than early March, which leaves you with roughly 4 weeks of production time. It's a tall order considering that at least 30-40% of all labor pool has been refreshed with new and untrained staff.
Winners Plan Ahead
It's no secret that planning is not a strong suit in our industry. We are a nascent industry and operate in a constantly evolving regulatory environment and a superbly tidal marketplace. Yet a respectable number of organizations we work with have a clear path to scale and a practical plan to get there. As a matter of a fact most "Powered by Blinc" brands have their projections set and have already secured their inventory well through 4/20.
Here's a quick infographic on the order, production and delivery timelines for both – reorders and new orders. This will give you a really clear calendar to follow and ensure that your business is future proof.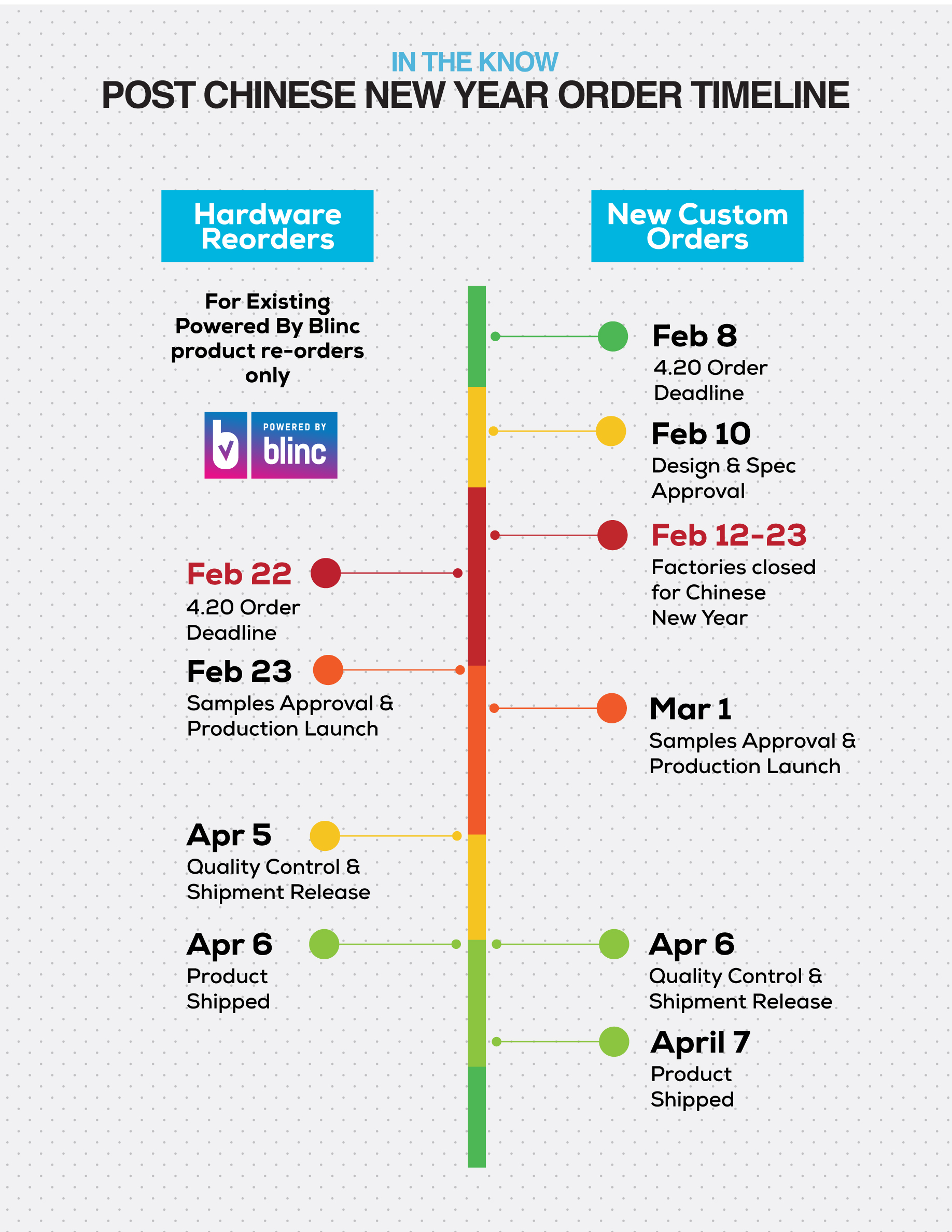 Whether you are a "Powered by Blinc" brand or not, we urge you to speak to your supplier and get a very clear outlook on inventory order deadlines to ensure that you have the tools you need to take advantage of the biggest day in cannabis. We hope to see you at your local 4/20 festival in the near future!
#notjustvapor