Until now, the main alloy used in cannabis vaping devices has been H59 as this is the cheapest brass alloy and is commonly available. H59 contains up to 2% Pb (lead). The main issue with H59 is that, when it comes into contact with cannabis oil, it leaches lead. Though leaching decreased over time, the amount of lead that has leached into the oil increases
On the other hand we have stainless steel that has become ubiquitous in our everyday lives. You'll find it in surgical tools and medical equipment, architecture, automobiles and aircraft, as well as in your kitchen. The most common stainless steel products we probably (hopefully) use at home are pots and pans, including cutlery and even kitchen sinks.
Types of Stainless Steel
To be considered a "stainless steel", the only thing a metal alloy needs to consist of is at least 10.5% chromium. There are literally hundreds of alloys that fit that description. Each type of stainless steel have their own pros and cons, but they are typically divided into 4 groups:
Austenitic
These are the most common stainless steels and they are usually high in nickel content but will also contain high amounts of chromium, nitrogen and molybdenum. The weldability and malleability of austenitic stainless steels are their sweet spot which is why they are commonly used in kitchenware like cutlery and pots & pans or storage containers. In addition to being very strong, they have high corrosion resistance. The most common austenitic stainless steels are 304 and 316, though they are known for being the most expensive.
Ferritic
These stainless steels contains very low carbon and consist primarily of chromium, though other metals can be added like molybdenum. Ferritic stainless steels are magnetic and provide moderate to good corrosion resistance (which increases with chromium content) but weldability and formability are poor. The most common ferritic stainless steels are 430 (ie: automotive trim) and 434 (ie: hot water tanks).
Duplex
Duplex stainless steels are an austenitic and a ferritic combination. They contain quite a lot of chromium (18% to 28%) as well as moderate amounts of nickel (4.5% to 8%) which makes them less expensive than austenitic stainless steels. Known for their high resistance to stress corrosion cracking and to chloride ion attack, they are heavily used in the underwater oil industry. The most common types of duplex stainless steels include S31803 and S32205.
Martensitic
Martensitic stainless steels were among the first to be used in products like cutlery. Their high carbon content (0.1% to 1.2%) allows them to be hardened to great extents but will provide average resistance to corrosion. They are mainly used in valves/pumps (ie: 420), but also in knife blades (ie: 420C), shafts and spindles (ie:431).
Now that we've discussed the types of stainless steel, it's easy to understand why, when developing our cannabis vaping devices, our only possible choices (mainly due to corrosion resistance) were essentially 304 or 316 stainless steel.
Why use SUS304 for cannabis vaping devices?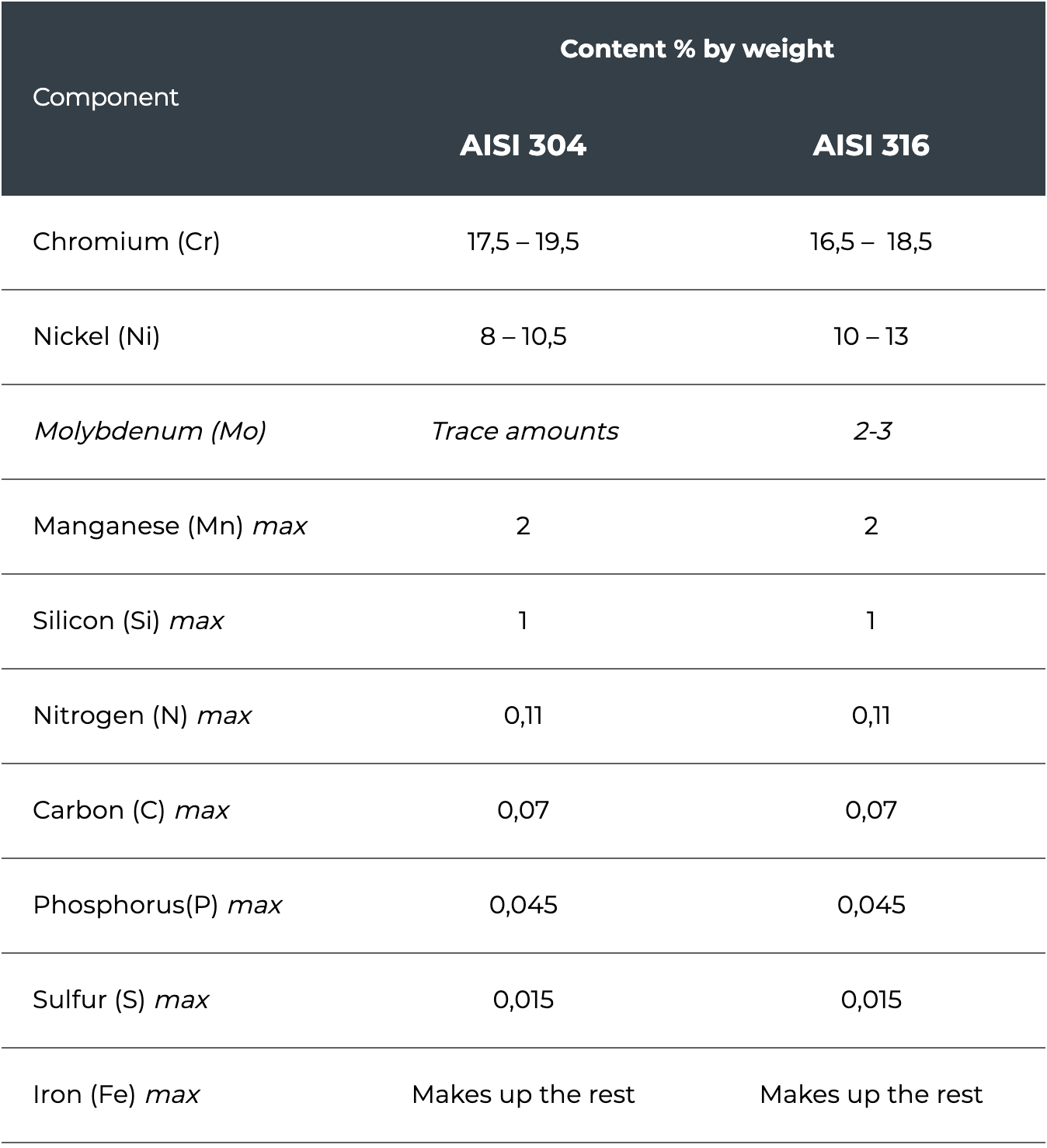 At Blinc, we consider all of our cannabis vaping devices as medical devices. This is why we require our assembling facilities to have ISO13485 certification, in addition to ISO9001 and GMP certifications. Austenitic 304 and 316 stainless steels are considered surgical or medical-grade stainless steels, so why did we choose 304?
Difference between 304 and 316 stainless steels
At its core, the only aspect that varies between 304 and 316 stainless steels is their chromium to nickel ratio: 316 tends to have more nickel but the mechanical properties of both are very comparable. 316 stainless steel is predominantly used for long term surgical applications like implants.
It's important to keep in mind that in some rare cases, our immune system can have adverse reactions to nickel. In these cases, the best option would be to use titanium, though a more costly solution.
Stainless steel in medical devices
304 Stainless steel is viewed as one of the most suitable materials for manufacturing medical devices. The high corrosion resistance and low carbon content provide medical devices the assurance that bodily tissue, cleaning products, and sterilization products won't react chemically.
304 Stainless steel provides a number of advantages for cannabis vaping devices like cartridges. Among the most notable one:
Rust proof: no oxidation
High corrosion resistance
Recyclable
Antibacterial properties
It doesn't stain
Non-magnetic
High heat resistance
Medical device applications for stainless steel
| | |
| --- | --- |
| 304 Stainless Steel | 316 Stainless Steel |
| Precision tubing | Orthopaedic implants |
| Bone fixation | Artificial heart valves |
| Mandrels/tools | |
| Chemical containers or hazardous waste containers | |
| Wires/wire coils/wire forms | |
| Screws/prostheses/plates | |
| Medical needles/syringes | |
| Sensor probes | |
| Catheters | |
| Sinks/bowls/surfaces/trays/knives | |
How does Blinc ensure the quality of stainless steel
One of the pillars of Blinc is of course quality. And when we say quality, we don't simply mean a products that works. Quality being part of our DNA, we are the only cannabis vaping manufacturer who actually controls the entire supply chain of raw materials used for assembling our hardware.
In practice, this means our team in Shenzhen selects and audits raw materials suppliers on a regular basis to make sure that only the best materials and facilities are used. One of the operations during our audits of SUS304 suppliers is sending samples off for testing to one of our partner labs in Hong Kong to make sure the chemical composition of stainless steel meets AISI requirements.We also perform testing to comply with the FDA's Generally Recognized As Safe (GRAS) specifications for stainless steel.
Devices designed for medical use must by nature meet strict design and manufacturing criteria. In a world increasingly focused on lawsuits and retribution, claims of injury or harm from misconduct, anything that comes into contact with the human body or contains products consumed by humans, must be designed with strict raw material guidelines.