Portable cannabis vaporizers are revolutionizing the cannabis consumption experience. Thanks to their greater ease of use, convenience, and health benefits they are driving veteran and new cannabis consumers towards growth in vape adoption.
Vaporizers also offer no smell or large cloud on low heat settings. They don't require much effort, unlike rolling joints. And some offer cartridge options that do not need grinders or expensive flower vaporizers. At large, the normalization and continued adopted of cannabis is also bringing greater interest and sales to cannabis vaporizers. These driving forces are causing increasingly more adult Americans to vape cannabis.
Cannabis use Overall is Growing in America
According to data from The National Survey released earlier this month, they found that, in 2016:
About 21% of U.S. residents between 18 and 25 used cannabis once a month or more
Almost 15% of adults 26-34 are monthly or more cannabis consumers
Cannabis use among teens (12-17) has reached a near all time low
Those numbers are the highest rates of marijuana use since 1985, The Washington Post reported. A study by the Public Health Institute shows similar results
12.9% of adults used cannabis in 2015 nearly double the 6.7% use in 2005
The percent of women who consume cannabis has nearly doubled since 1984 5.5% of adults to 10.6%.
14.7% more men use cannabis than in 2000.
Vape Sales are Gaining Market Share
According to sales from delivery service Eaze, sales for vaporizers and vaporizer accessories are definitely on the rise. They release a State of Cannabis report which outlines sales figures year over year. The report outlines different trends in consumer demographics and buying behaviors. With their over 250,000 customers, and over 5,000 survey participants it is one of the biggest public cannabis sales reports.
Oil cartridges used for cannabis vaping increased a whopping 400% amongst their customer in 2016 versus their 2016 sales figures. Their sales percentages went from 6% to 24% of cannabis sales within that single year.
Similarly 1 in 3 people ordered a vaporizer cartridge. In 2015, only 7% of users ordered a vaporizer cartridge on the Eaze platform. In 2016, 31% had – a 429% increase.
Northern California is quicker to adopt new product categories than Southern California, which evidently prefers consuming cannabis through flowers.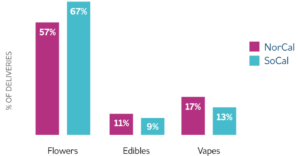 Image sourced from Eaze Insights
Another interesting insight from the report is that many people that switched to marijuana stopped smoking tobacco. Furthermore, those who quit drinking tend to order vaporizer cartridges more frequently when compared the typical Eaze user.
According to data from BDS Analytics, a cannabis insights firm, it may be possible to extrapolate these sales trends even further. Growth rates for 2016 sales data in Colorado, Washington and Oregon show a high growth rate for pre-rolls, edibles, and concentrates in that order compared to the growth rates of flower sales.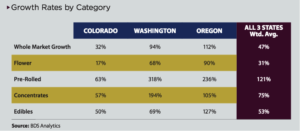 When looking at the dollar sales per state by product category we can see large sales figures in all three states for vaporizer concentrates, second alone to flower itself. Colorado took in $72.5 million; Washington, nearly $14 million and Oregon $ 22.7 million in concentrate sales.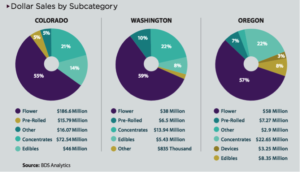 Some examples of growing vape brands include Transpring, a Chinese Vape manufacturer started with $1 million in sales in 2012. Their current annual revenue is about $50 million. Peter Hacket, VP of Transpring told MJ Biz Magazine that he expects sales to break $100 million within the next few years.
Firefly, on the other hand, has not publicly shared company revenue figures, but Firefly CEO, Steve Berg did note that they have sold "tens of thousands" of their namesake vaporizer since launch in 2013
Puffco, a New York based vaporizer company is also reporting sales figures in the millions. They mostly make vape pens and notably make the Puffco Plus, the "Most Awarded Vaporizer" in 2017.
Online Study Finds Increasing Vape Use
A recent study of nearly 3,000 cannabis users shows that there is a clear rise in vaping and demand for vapes. The study was conducted by targeting Facebook users who have cannabis related interests.
Their results indicated that a majority of respondents (61%) had vaped before. Additionally, 37% had used a vape in the last 30 days, 20% noted they vaped more than 100 different times, and vaping is the preferred cannabis consumption method for 12% of respondents. The survey sample consisted of 2910 cannabis users aged 18-90. 74% of the sample was Caucasian and 84% male.
Data is showing an upward trend in cannabis consumption throughout vape sales, occasions for use, and percentage of market sales across different areas in America. It is a ripe time to take advantage of the growing trend in cannabis consumption.