The basic orientation of The Blinc Group is to be recognized for its quality in manufacturing cannabis vaping hardware. This is achieved through the following activities which are part of our quality policy:
Consideration of context of the organization and aligning the Quality Management System with the strategic direction of Blinc
Satisfying customer and applicable statutory and regulatory requirements
Management of organization, along with employee-established quality objectives and defined responsibilities for their fulfillment
Establishing, applying, maintaining and continual improvement of effectiveness of Quality Management System – ISO 9001:2015
Continual enhancement of customers' satisfaction
Tracking and applying new technologies and educating employees
Careful selection of suppliers
Commitment to increase quality of cannabis vaping products to exceed customers' expectations
Making continuous improvement a part of every day and every job
Ensuring that our Policy and Procedure Manuals reflect what we actually do
Understanding how our jobs fit into the flow of work at Blinc
Continuously upgrading the Quality Management System in all stages ranging from order receipt, production, shipment to activities after shipment.
Continuous improvement: raw material reject rates
As part of our continuous improvement process listed above, we have recently audited our production records for a certain type of cartridges we manufactured. This batch was for 75,000 pcs: 3 variations of 25,000 pcs of the same cartridge, with three different colors: yellow, red and orange.

This cartridge is composed of 13 different raw materials, in some cases we use multiple suppliers for each raw material, ie: we have 6 different suppliers for the mouthpiece. Upon reception of each raw material, Blinc's team (in addition to our assembler's team) proceed with an Initial Product Check (IPC) for each raw material.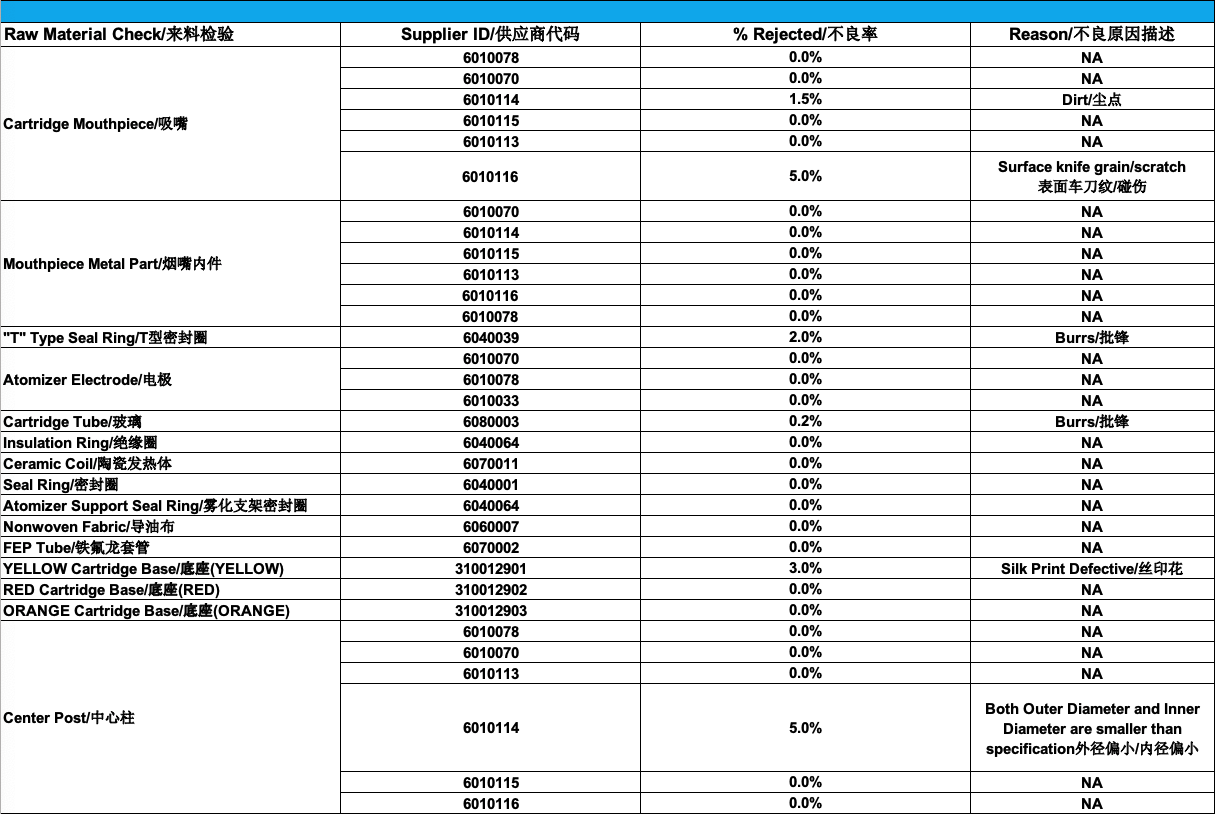 As you can see, there are quite a few areas of improvement that stand out simply by looking at this report:
Supplier 6010116 for the mouthpiece has a very high 5% reject rate: we have decided to proceed with a review of defects and have put the supplier on notice
Supplier 310012901 for the Yellow cartridge base has a 3% reject rate: we have reviewed the printing process for lighter colors and have requested the supplier purchase additional equipment to provide better consistency with their silk printing
Supplier 6010114 for the center post has a 5% reject rate: we have requested the supplier review the calibration of their CNC machines and will be doing a 100% inspection upon delivery of their next batches
There are of course a lot more conclusions to make here, but for simplicity reasons, we've listed the main ones.
Continuous improvement: finished product reject rates
Subsequently, our quality control team also inspects products during production (LQC – Line Quality Check), proceeds with a final product inspection (FQC – Final Quality Check) for finished or semi-finished cartridges (base and mouthpiece) and finally, does an In-Process Quality Check (IPQC) of the final products.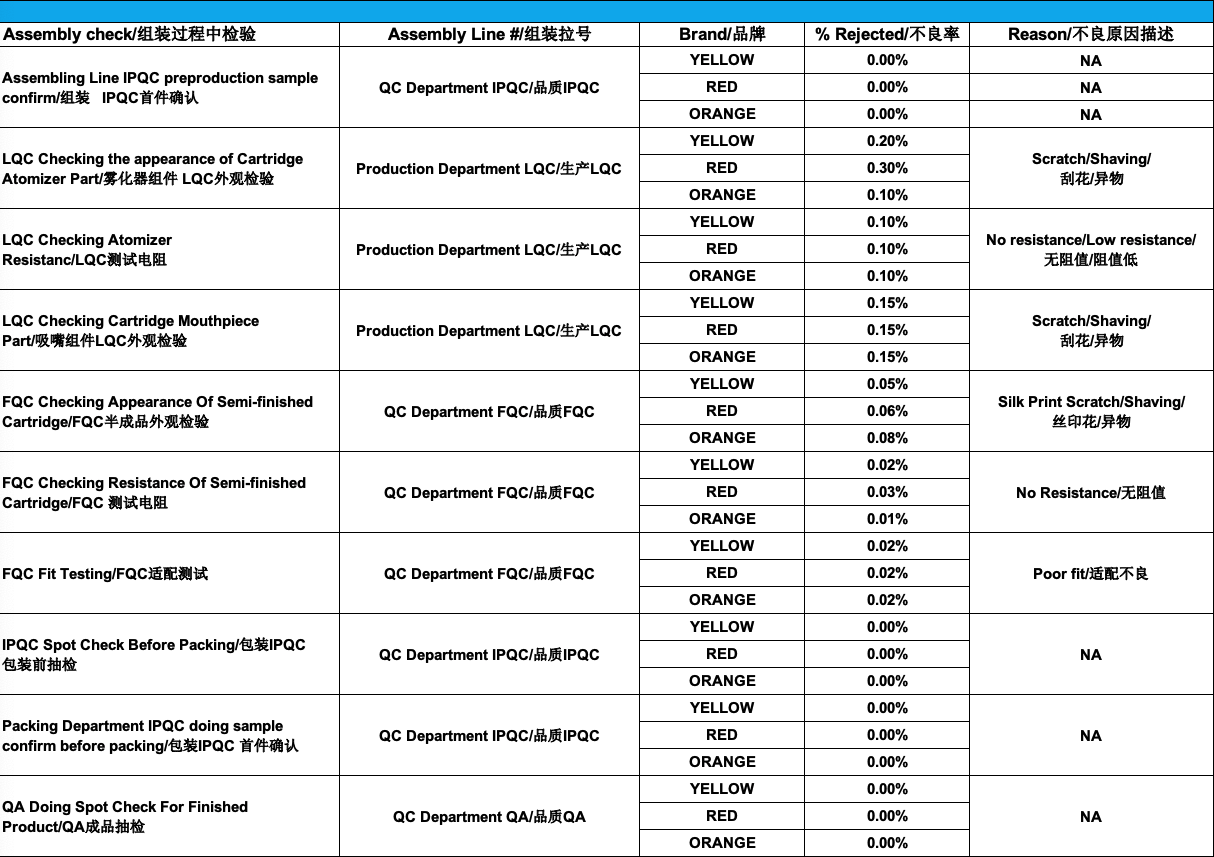 Again, by regularly reviewing production records, we can easily identify trends and improve every workstation SOP on the assembly line:
the LQC on the appearance of the cartridge atomizer has between 0.1% and 0.3% reject rate: we have modified the workstation SOP handling instructions to minimize the products coming into contact with each other and have audited the center post supplier's CNC machining SOP and asked for corrective actions to eliminate any excess stainless steel shavings
the LQC on mouthpiece reject rates are 0.15%: we have proceeded with an audit of the CNC machining used by the suppliers and have requested corrective actions to eliminate any excess stainless steel shavings
Continuous improvement: packaged product inspection
After all those steps are done, we proceed with a final inspection of the packaged products using AQL (Acceptable Quality Level) standards. This final inspection is based on the mutually agreed upon and executed product specification sheet and contains a list of critical, major and minor defects. From the results of this inspection, our Quality Control team decides to release the products for shipment to our logistic team.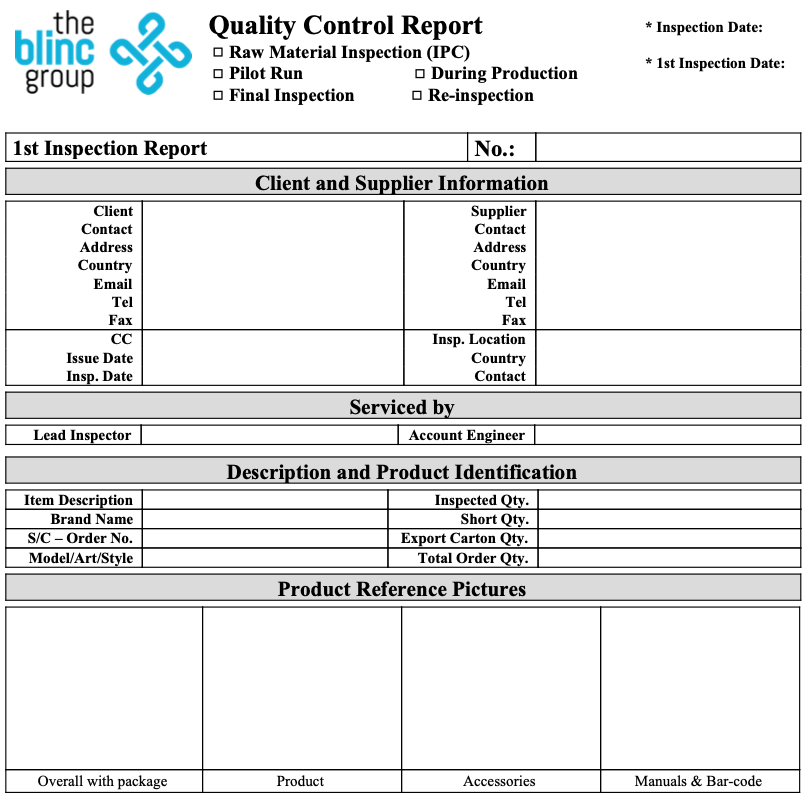 As you'll see, even for a seemingly simple product like a cartridge, the manufacturing and quality control process are complex and require the involvement of many stakeholders both at Blinc and at our assemblers' facilities, ranging from engineering, to QA, to QC, to manufacturing all the way to packaging teams. We certainly hope this glimpse into continuous improvement, specific to rejection rates, gives you a better understanding of the amount of work and effort put into manufacturing innovative, safe,and quality controlled cannabis vaping products.