When it comes to cannabis vaping products, we often encounter most the same at point of sale; the same cartridges, disposables, batteries, etc. only differentiated by packaging and brand promise, while the hardware is only identified by logos and color treatment, with form factors remaining vastly repetitive and outright boring. Think about it, how many brands have the same cart with the same white ceramic tip? Take them out of the context of packaging, and you will be hard-pressed to tell the difference from 3 feet away. That's a big problem, especially so in strictly regulated markets like Canada, where packaging guidelines are universal and your only visual differentiator is brand and product design.
Define your product experience
What makes a good product experience is the value your customer receives from using your product. When it comes to cannabis vaping products, customers' perceptions define this experience about the end-product quality, consistency in performance, clear brand+product differentiation and fulfillment of the brand promise commitment as communicated by the brand. Having a clear product strategy in today's oversaturated marketplace is paramount if your goal is to ensure a brand's long term relevancy and commercial success.
So let's break this down and try to identify a clear roadmap to a remarkable brand product experience; Operating under an assumption that, having embarked on this journey, you have done your homework. This means you've clearly identified your target audience segment, you've studied their purchasing patterns and know exactly what they seek in terms of formulation, effect range, and vaping experience. This also means having a defined and differentiated brand communication strategy that clearly resonates with your selected target audience segment.
Then comes the form factor; your choices are a 510 thread cartridge plus a battery, a ready to use disposable or a pod system. Let's get the latter out-of-the-way first; a pod system is an excellent choice for a fully controlled end user experience and an ownable consumer base with your proprietary battery in hand. However, given its proprietary nature, introducing a new pod system on the market comes with a significant price tag. This is why most brands launch with a universally accepted 510 thread system and/or a ready to use disposable, which comprise almost 98% of all cannabis vape product sales in the United States. This is where the problem of differentiation begins.
Innovation, Quality and Safety go hand-in-hand
A differentiated product experience is mainly achieved through quality control and unique design. Thankfully the challenge of quality control, compliance and consistency has been addressed by organizations like Blinc. However, the subtle changes to the universally accepted 510 thread cartridge form factors are not enough to differentiate your brand.
The standard options of placing a logo on the glass or base, selecting from a handful of mouthpieces, and adding color, have been the accepted standard when it comes to a private label cartridge.
Fact is, when our sales team introduces a new client to the Blinc product design team, this is the limitation of their standard request due to the fact that the industry has been conditioned to think within this box by pretty much each and every reputable hardware supplier on the market.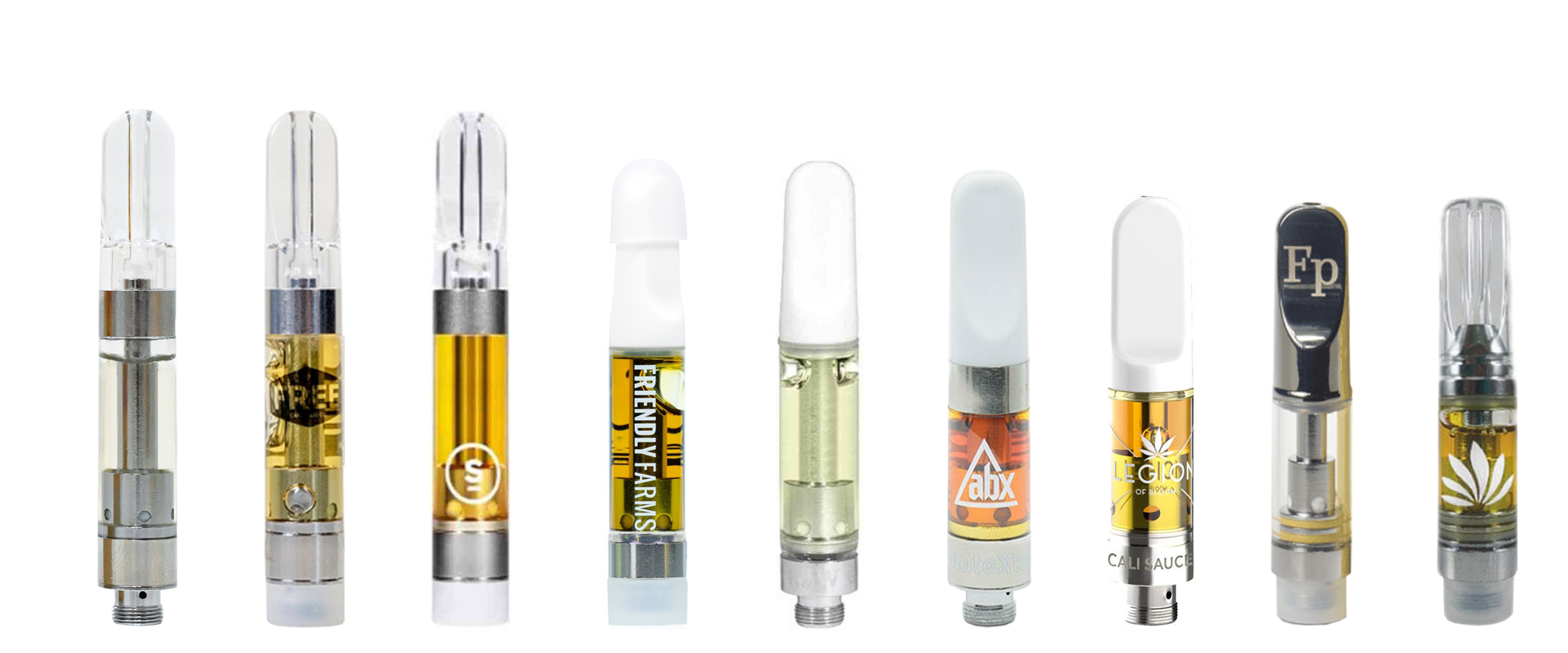 The Blinc Difference
We break that box and push our way beyond the standards; with the technologies and processes available today there's virtually nothing that cannot be done. Why limit your brand exposure to the tiny bottom band or a logo on the tank when you have the entire real estate of the glass, which can be wrapped, imprinted, die cut, colored, etc. for a unique impression?
Who says that standard silver, gold and black finishes are the absolute limitation? If a gold metallic is doable, why can't we make it a vibrant color – blue, green, red, purple, orange? If the metallic base can be electroplated, why can't the center post be electroplated to match? And why should your identity be limited to the mouthpiece colors offered by the manufacturer. If a white ceramic can be colored black, why can't it be any other pantone color? The same goes for glass, PCTG, metal, etc.
Taking it a step further, why should your unique brand be limited to the mouthpiece form factor offered as standard and available to each of your competitors? Fact is you can design your own proprietary mouthpiece, pretty much any form factor for a moderate cost. A mouthpiece that is clearly identifiable, matches your brand's visual vocabulary, and is clearly differentiated from every other 510 thread cartridge on the market would represent a cool and ownable product experience now, wouldn't it?
Add that differentiated design and mouthpiece to your all in one disposable, and voila – you have a line of unique branded products. Yes, huge differentiation opportunities open up when we think about a battery, but more about that in the next article.

Consider this a call to action to rethink how you approach your product selection and differentiation. Don't go by what's offered to you, but ask for what your brand must have. If someone tells you it's not possible – push on, everything is possible! We are operating in a constantly evolving and superbly noisy marketplace where the end user experience defines your brand and your product is one of the key cornerstones of that experience. #notjustvapor